IANN Special Edition vol.1-5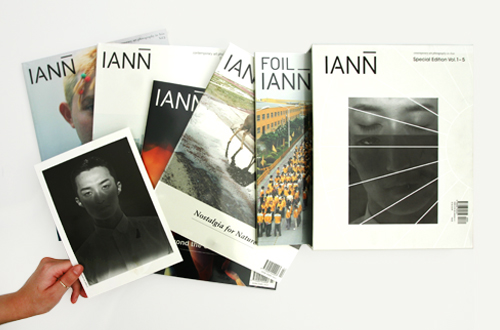 이안의 두 눈으로 현대 예술사진의 정점을 바라보다!
이안은 보는 눈과 사고하는 눈, 바로 두 눈(二眼)이란 뜻이다.
2007년 설립 이래 예술사진잡지 및 전시기획, 출판, 교육프로그램 등 문화예술과 접목시켜 다양한 프로젝트를 진행 해왔고 올해는 이안 창간 7주년 기념으로 『IANN 스페셜 에디션』을 제작했다. 본 세트는 과월호 전5권(vol.1-5), IANN의 두 눈을 모티브로 촬영한 이승희 작가의 사진과 엽서를 함께 제공한다.
Contemporary art photography through the two eyes of IANN
IANN means two eyes for seeing and thinking.
Since its foundation in 2007, IANN has organized a variety of projects ranging from the publication of the contemporary art photography magazine to curating exhibitions, publishing books, and running educational programs. In celebration of IANN's 7th anniversary this year, we have put together the IANN Special Edition. This set consists of all back issues of IANN magazine (vol.1-5) and a postcard themed on the two eyes of IANN, taken by photographer Lee Seung-hee.
Special Edition Vol.1-5
스페셜 에디션 (전5권)
발행처 : IANNBOOKS / 발행연도: 2013
크기 : 233x293x47mm
분류 : 예술/대중문화>사진
ISBN : 978-89-966453-5-1 / 가격 : 82,000원
Edition 500 only